Bale clamp can lift the goods directly from both sides to realize pallet-free handling.
It is an efficient and economical forklift attachment. Suitable for handling all kinds of flexible packaging products, such as cotton, wool, chemical fiber, rag, tobacco, paper, food and many other industries of pallet-free
handling and stacking operations.
This attachment has the advantages of stable operation, high efficiency, easy maintenance and low price.
The steel structure frame of the bale clamp can be used with high strength ensuring the needs of users of high intensity operations.
It's slides also has a self-lubricating function with a firm and reliable intallation.
For great views, it has a very good layout sturcture.
A very high quality T-shaped rod and aluminium alloy are used for longer duration.
In addition, the valve body administer the side movement facilitating a great operation.
Customized bale clamp attachment  available.  Just tell us your specific requirement, or give us the sample model information. We will tailor made that. 
Cotton industry;
Wool;
Textile;
Chemical fiber;
Rag,
Tobacco;
Waste paper;
And many other forms of soft bags.
Three basic information provided for a correct quote:
Forklift load capacity;
Cargo weight;
Other special request if needed.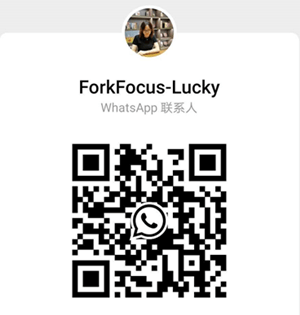 Quick connection with our forklift expert:

Scan above QR code by whatsapp,

or add whatsapp NO. : +8613867191752

Share bale clamp with your clients
more Than 100 Product For Your Choice. There Could Be One Of Your Forklift Solution.