In contrast to forklift attachments, which serve as add-ons to the forklift, forklift parts are more like their internal organs.
To put it simply, getting a forklift attachment is like buying and wearing new clothing while obtaining a forklift spare part is comparable to getting dental work to fix a tooth.
In this context, the key factors to consider are compatibility and quality. It's crucial to make sure you're getting the right part that fits your specific forklift model perfectly.
Think of it this way: Imagine having a tooth that's either too big or too small for your mouth.
It would make eating quite challenging, right?
Similarly, having the wrong-sized forklift part can seriously affect the forklift's performance.
So, getting the correct, properly sized forklift part is essential to ensure everything runs smoothly and efficiently.
For this reason, when ordering forklift spare parts all this information must be provided to ensure you're getting the right part:
Forklift Brand
Forklift Model
Part number
Part name
Part Photo (if available)
The forklift forklift brand and model can be replaced with a photo of the forklift nameplate if you have it.  Additionally, the quantity needed for each part should be provided.
Now, the big question…
How does ForkFocus deals with your order for Forklift parts?
Firstly, ForkFocus handles your order for forklift parts with a meticulous process that prioritizes accuracy and compatibility.
While the authenticity of the parts is essential, it's very crucial to ensure they are a suitable match for your forklift.
Imagine ordering forklift parts for urgent maintenance and realizing after receiving them that they are genuine but not compatible with your forklift.
In this situation, will the genuineness of the parts matter?
Therefore, Here's the step-by-step approach ForkFocus follows, from your initial request to the final delivery
Here we receive the order from the customer about his needed part for maintenance or stock purposes.
This list included the aforementioned information(Forklift brand and model, part number and name, quantity, and or photos).
In this case, Heli and Hangcha forklift spare parts.
But that's not all. We value our customers' time, which is why we offer a unique privilege. Before submitting their lists, our customers have the opportunity to request and reserve parts. 

This way, we can expedite the process and get your parts to you even faster.
At ForkFocus, your satisfaction is not just a goal; it's our top priority!
Correctness and Compatibility Check
Our goal is to ensure the accuracy and compatibility of every part, so,
We cross-reference part numbers with our catalogues to confirm their accuracy.
We compare the parts to the photos you provided to verify their identity.
This step is crucial in preventing any mix-ups or delays in getting you the right forklift spare parts.
A Confirmation and Corrections
At this stage, we don't just stop with the checks. We believe in the power of collaboration. We send the list back to you for review and confirmation.

If any mistakes or discrepancies are identified, you have the opportunity to make corrections, ensuring a smooth and hassle-free experience with ForkFocus.
One of the reasons why ForkFocus stands out is our unwavering commitment to transparency. This commitment is evident in our final step before delivery:
When we talk about transparency, we mean keeping you informed every step of the way. To ensure this transparency,
We provide you with photos of every part and package that will be included in your order. This gives you the opportunity for a final confirmation, ensuring that you are receiving exactly what you need.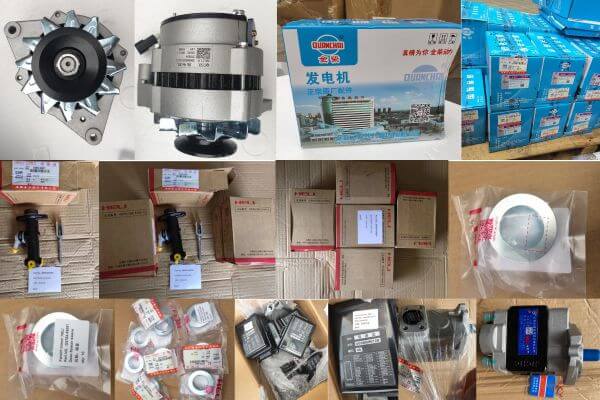 After all these meticulous checks and confirmations are completed, your carefully selected and verified parts are promptly dispatched to you.
Rest assured that our streamlined process ensures your order is processed efficiently.
At ForkFocus, your satisfaction is not just a promise; it's our guarantee. We strive to get your order to you swiftly and accurately, ensuring your forklift maintenance or stocking needs are met without delay.
Why Choose ForkFocus as Your Forklift Parts Supplier?
At ForkFocus, we go beyond simply providing you with the correct forklift parts. What sets us apart from other suppliers is our commitment to excellence in every aspect of our service:
With over 12 years of experience in the forklift parts business, we have successfully fulfilled orders of all sizes, from small to large.
No matter the scale of your parts list, you can trust that we have the expertise and resources to meet your needs.
At ForkFocus, we believe in building long-term partnerships.
Whether you're a seasoned industry veteran or a newly established forklift parts provider, we treat you like family, fostering a lasting and mutually beneficial relationship.
Trust is the cornerstone of our cooperation. You trust us to deliver the correct forklift parts on time, and we reciprocate that trust by relying on you for timely information and payments.
It's a two-way commitment that ensures a seamless working relationship.
Once we receive your parts list, we take on the responsibility of providing you with the best-quality parts at an affordable rate.
We take this responsibility seriously, just as we expect you to fulfill your part of the partnership, whether it's in terms of providing necessary information or timely payments.
Our commitment to affordability doesn't come at the expense of quality.
ForkFocus offers competitive pricing without compromising on the quality of our products.
We understand your budget constraints and strive to provide the best value for your investment.
We understand the challenges you face in the industry, and we are committed to being flexible in our approach.
Whether it's expediting your order or finding creative solutions to meet your specific needs, we work closely with you to ensure a seamless and efficient process.
In conclusion, at ForkFocus, we approach your forklift parts order with an unwavering commitment to precision.
We understand that authenticity alone is insufficient; compatibility is equally paramount.We are here to serve your needs and help your business thrive.
Precision in every part – that's our promise. Your forklift deserves nothing less.