Hand Pallet Truck 2.0-3.0T
Hand Pallet Truck, is widely used in super market, factory…etc to move goods. It is the simplest, most effective and most common means of loading, unloading and handling of pallets. Fork Focus hand pallet truck, are standard with integrated pump, double front wheels and thick chassis to ensures a stable performance and long service time.
There are many methods to decrease the production cost and a cheap price, but that's never the way of Fork Focus doing business. The reasonable price will be long forgotten when you are happy with your machine. But the opposize will be the WORSE. Cheap price may only make you happy at the buying moment.
| | |
| --- | --- |
| Model | FHPT20, FHPT25, FHPT30 |
| Rated Load Capacity/ Kg | 2000, 2500, 3000 |
| Delivery Time | 25 days around |
Details about Hand Pallet Truck 2.0-3.0T
The hand pallet truck, is the entry level equipment in the material handing indrusty.
A Pallet Truck is the most basic forklift design there is, usually used in warehouses, stock rooms, and other places that use wooden pallets. The trolley design makes it very convenient and easy to use. The main function of a pallet truck is to lift and transport pallets, instead of manually doing it.
Main Specification
Brand 
FORKFOCUS
Model
PT25
PT30
Capacity
2500 kg
2500 kg
3000 kg
3000 kg
Fork width
550 mm
685 mm
550 mm
685 mm
Fork Length
1150 mm
1220 mm
1150 mm
1220 mm
Lowered height
75 mm
75 mm
75 mm
75 mm
Fork width
A
160mm
160mm
160mm
160mm
B
230mm
365mm
230mm
365mm
C
550 mm
685 mm
550 mm
685 mm
Diameter of Pistion
31.5MM
31.5MM
31.5MM
31.5MM
Thickness of Truck body
3.0mm
3.0mm
4.0mm
4.0mm
Load wheel material
Tandem / Nylon
Tandem / Nylon
Tandem / Nylon
Tandem / Nylon
Load roller Single size (ф  x L)
Ø80×93 mm
Ø80×93 mm
Ø80×93 mm
Ø80×93 mm
Steering wheel material
Nylon
Nylon
Nylon
Nylon
Steering wheel size (ф   x  L  )
Ø180×50 mm
Ø180×50 mm
Ø180×50 mm
Ø180×50 mm
Self Weight (Net Weight ) :KG
68
70
72
74
Solid Structure and thick chassis, to ensure the high performance.
Big size of Double PU or Nylon wheels, a better balance.
All with integrated pump, greaetly avoid the oil leakage.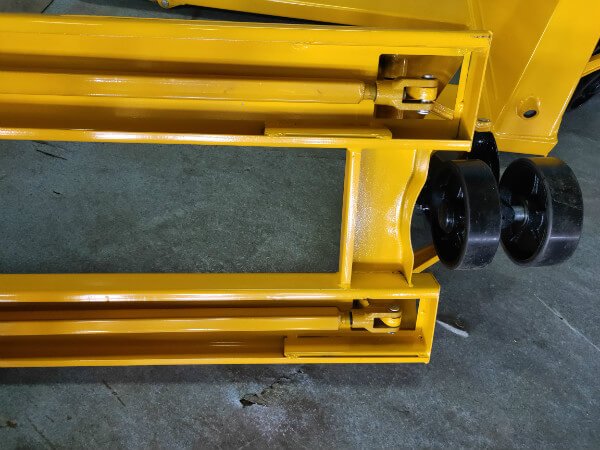 The auxiliary wheel to help gradeability.
Benefit:
Faster delivery : 20 days.
Spare parts supply within one week at latest.
After sales service 24hours on line.
Technical support or consultation in english, 0 communication obstacle.
Critical five parts to hand pallet truck
Oil pump:
The oil pump is a key part for hand pallet truck. Once there is a problem with the oil pump, that is to say, the hand pallet truck will stop working, and no matter how good other parts are. The oil pump is composed of a lot of parts. Among them, the dust-proof ring, O-ring seal, steel ball and other accessories are most prone to problems. Once these accessories are found to have problems or wear or damage during operation, the easiest and fastest solution is to replace the components.
 2. Oil cylinder:
The oil cylinder plays a vital role in the whole lifting process of hand pallet truck, and it is also used to lift and lower down the goods. Therefore, if the fork cannot be lowered or cannot be raised, the reasons are:
The piston rod and the oil cylinder may be damaged due to overload or partial load during operation;

The piston rod is exposed for a long time and get rusty, so that the piston cannot move smoothly;
The adjusted nut and hex nut are not in the correct position; at this time, check and decide to replace the piston rod or cylinder. Lower down the hand pallet truck to the lowest level after operation, and then readjust the nut.
3. Oil seal:
The oil seal is the key component between the piston rod of the oil cylinder and the cylinder barrel. Generally, it's imported oil seal. Mainly because of its good sealing performance, wear resistance and long service time. And 70% of the oil leakage problem are from the oil seal. If found oil leakage in the oil cylinder, check it in time. If the root of problem is from oil seal aging or damaged, replace it with a high-quality sealing ring.
4, Wheels:
Wheels belongs to easy-broken parts, and they must get worn-out if they are used for a long time. There are also many types of truck wheels, such as nylon wheels, PU wheels, polyurethane coated nylon, rubber wheels…. etc. Most hand pallet trucks are equipped with nylon wheels because they are common and cheap in the market, but they are less wear-resistant and much noisy when walking. Nylon wheels is good for cement floor while PU wheels is much suitable for smoothy ground. No matter what kind of wheels you use, you'd better to replace it in time if it gets worn out.
Lever frame:
The lever frame is the key component connecting the oil pump and the push rod. The lifting of the hydraulic cylinder, the carrying and loading of goods are all supported and balanced by the lever frame. In the material handling process, there might have the possibility like overload, or unbalanced load, this will lead to deformation or fracture to the lever frame. Therefore, it's important to keep a standard operation.
Take above five points to consider when you want to buy the hand pallet truck. Based on your specific working environment, plus above five important points, we believe you will choose the good value for money hand pallet truck.
Manual pallet truck, is one of the fastest-growing products in the field of industrial vehicles. It is one of the most common warehouse equipment, lower price, simple operation and accurate positioning, which can reduce a lot of labor waste. With a good cleaning and maintenance, your hand pallet trucks will last longer!
How do you use a hand pallet truck?
The hand pallet truck works by manually pumping the lever to lift the forks. There are a few guidelines to follow to ensure the safe and successful use of the hand pallet truck:
Always make sure that before you use the hand pallet, the forks are at their lowest height. You can do this by squeezing the control of the handle upwards.
Make sure the pallet and your forks are aligned because otherwise, you will not be able to insert the forks. Doing this will also evenly distribute the weight of your load when you lift it.
Once you've successfully inserted the forks into the pallets, pull the lever in the truck's handle upwards and then manually pump the handle to lift the load.
Once you raise the load, your forks need to remain at that height. Return the lever to a neutral position to refrain your forks from moving.
It's easy to operate but keep in mind that the heavier the load, the harder it will be to pump the lever, and if you try and carry more than the pallet can handle, it can cause injury, and damage to your pallet and load.
Check out this video for how to operate hand pallet truck.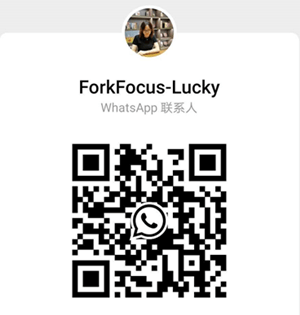 Quick connection with our forklift expert:

Scan above QR code by whatsapp,

or add whatsapp NO. : +8613867191752

Share Hand Pallet Truck 2.0-3.0T with your clients