We Help You choose your correct forklift based on your purticular needs.
Applications of Forklifts in Forestry and Wood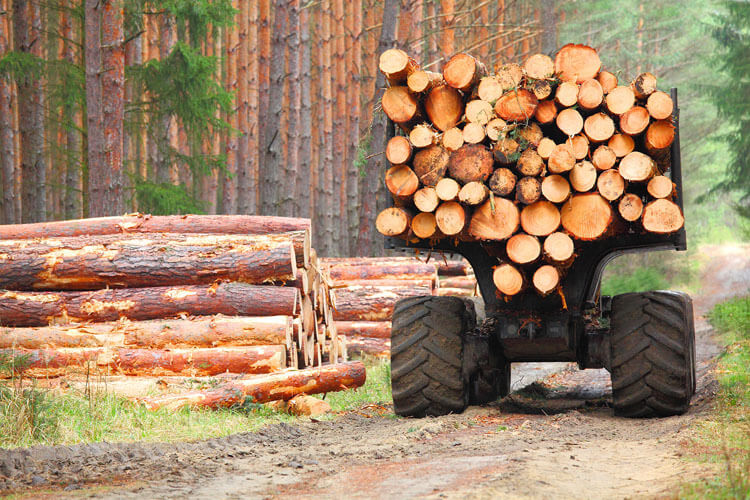 When it comes to the wood and forestry industry, it's pretty challenging to deal with the long, heavy, and harsh woods.
That is why the manufacturers or industries associated with the wood cutting or arranging the timber wood obtained from forests use forklifts.
You can choose a forklift with long forks, or buy the sideloader forklift for an easier operation. 
As we know that, the longer the forklift forks are, the less load capacity for the whole forklift will be. So that makes the sideloader forklift much more popular to carry long woods in timber factory or for forestry applications.
Capacity: 1800kg-3500kg;
Lifting height: 0-7000mm;
Engine: Isuzu, Yanmar, Cummins, Chinese engine.
Capacity: 5000kg-10000kg;
Lifting height: 0-7000mm;
Engine: Isuzu/Cummins/Chinese engine
not finding your best fit forklift?
Count on FORKFOCUS!
Applications of Forklifts in Forestry and Wood
Much benefit will be received for forklift applications in forestry and wood industry.  Let's get into this in detail as section below.
Heavy Consolidation In the Wood Industry
The increased production of goods in the wood industry has given a potential boost to the improved use of heavy wood.
That is why the manufacturers are driving several other ways to consolidate forklifts in the lumber industry.
These machines are mainly used to extend the wood length limit and carry load from heights.
Furthermore, they provide a balanced combination of load on the machine so that it can transport woods from forests pretty easily.
The driving efficiency of the forklift in the wood and forestry industry decreases the labor and operating costs for you.
It's pretty costly to hire many persons to work in the wood and forestry industry just to carry the wood stocks from one place to another.
That is why you can now finding ways to integrate different forklifts in the same industry.
The primary reason behind this need is to cope with recruiting and retaining people from tough jobs.
In addition to labor retention, you can use forklifts to reduce the musculoskeletal problems in the persons associated with the wood and labor industry.
Instead of hiring people, industries are now conducting training and development programs to let their labor use forklifts properly.
It is also essential to train the people before associating the wood industry with forklifts to minimize mishaps and inconveniences.
Handle Long Lengths of Wood
Not all industries face problems in handling or transporting the stocks of wood but handling long lengths of wood is the primary concern of wood industries these days.
That is why many manufacturers have issued different types of forklifts that help in carrying even long lengths of wood pieces from one place to another.
Not only this, but the ease of transportation of these long lengths of wood is also ensured when using forklifts.
You can have access to move them from indoor to outdoor without any mishap.
The versatile designs and models available for forklifts provide complete assurance of the work.
Used for Promoting Human Safety
The transportation of the heavy blocks of wood from one place to another can damage a person's physical and internal health.
That is why forklifts are now providing efficient ways to promote human safety in such areas. They are now specially designed to cover all those challenges that a person is going to encounter in the wood industry.
Furthermore, the use of forklifts in the wood and forestry industry improves the ways to maneuver the wood stocks in narrow areas with great convenience.
You can carry the heavy loads around the narrow doorways, around obstacles, and to other destinations with utmost safety and security.
Better Working Under Tough Environments
Another primary application of the forklifts in wood and forestry is to promote better working in tough environments like rain, storm, or snow.
Human powers and resources aren't always effective in overcoming natural circumstances while performing heavy duties.
That is why the manufacturers make sure to use versatile types of forklifts to meet the demands of the lumber industry during unfavorable conditions.
Furthermore, the integration of forklifts in the wood industry is primarily used to prevent labor from dust and debris.
Offer Customized Handling of Wood
Forklifts also provide a potential method to get a customized way of handling different types of wood.
It's pretty hefty for humans to transport different shapes, sizes, weights, and packs of cut wood pieces at other places.
Thus, dealing with varying types of woods is another essential application of using forklifts. One or more than one type of forklift can easily be integrated.
Plus, the customization of the forklifts is also offered to deal with regular woods.
This application has benefited a wide range of wood industry holders, thereby hiring less labor.
We bought three 3.0T diesel forklift from ForkFocus for our own factory. So far, it works very well.
Maykon Elias
From Brazil, Wood industry
It was a satisfied experience working with ForkFocus. They are professional, and save us much time and engergy buying from them.
Loges Waren
From South Africa, forklift rental business.
What customers Say About Us